Release the hidden culinary giant in you and dip into Spice Devils' divine blends. Handcrafted in Dublin by Shakeel, a Mauritian soul with an Irish spirit, and named after his lovely little daughter, Sofia.

SERVES 4-6
Preparation time: 10 to 15 minutes
Cooking time: 30 minutes to 1 hour
SHOPPING LIST (Things you need and which you probably already have)
1 pack (25g) Spice Devils Teeka Tropical
750GMS CHICKEN FILLETS (CUT INTO BITE-SIZE CHUNKS)
2 HEAPING TBSP PLAIN YOGURT
JUICE FROM HALF LEMON
1 TBSP OIL AND 1 TBSP BUTTER
1 LARGE ONION FINELY CHOPPED
1 TIN (400G) CHOPPED TOMATOES (SMOOTHLY BLENDED)
2 TBSP TOMATO PASTE / PURÉE
1 TBSP SUGAR OR HONEY (OPTIONAL)
3 - 4 TBSP HEAVY CREAM
1 SMALL HANDFUL OF FRESH CORIANDER LEAVES, CHOPPED FOR GARNISH
HOW TO COOK
HEAT 1 TBSP OF OIL IN A HEAVY-BASE SAUCEPAN AND BROWN THE ONIONS
ADD BUTTER AND COOK UNTIL LIGHTLY FRAGRANT
ADD BLENDED TOMATOES AND TOMATO PASTE. LEAVE TO SIMMER UNTIL THICK
ADD "TEEKA" BLEND, 2 HEAPING TBSP PLAIN YOGURT, JUICE FROM HALF LEMON AND SALT TO TASTE. COMBINE WELL
ADD CHICKEN AND 1 TBSP OF HONEY/SUGAR (OPTIONAL)
ADD ENOUGH WATER TO COVER THE CHICKEN. MIX AND BRING TO THE BOIL
COOK COVERED ON MEDIUM HEAT UNTIL CHICKEN IS MELTINGLY TENDER AND SAUCE IS THICK
ADD HEAVY CREAM AND MORE SALT IF REQUIRED. LEAVE FOR FURTHER FEW MINUTES UNTIL YOU'RE HAPPY WITH CONSISTENCY AND TASTE.
ONCE TEEKA IS READY, GARNISH WITH CORIANDER AND SERVE.
*** ADD THE CHILLI GRADUALLY MIDWAY THROUGH COOKING, OR ALTERNATIVELY, ONLY SPRINKLE THE CHILLI ONTO THE DISHES OF THOSE WHO LIKE IT HOT.
SERVING SUGGESTIONS: Boiled basmati rice, couscous, naan bread, or a side of your choice. Enjoy... Bon Appétit!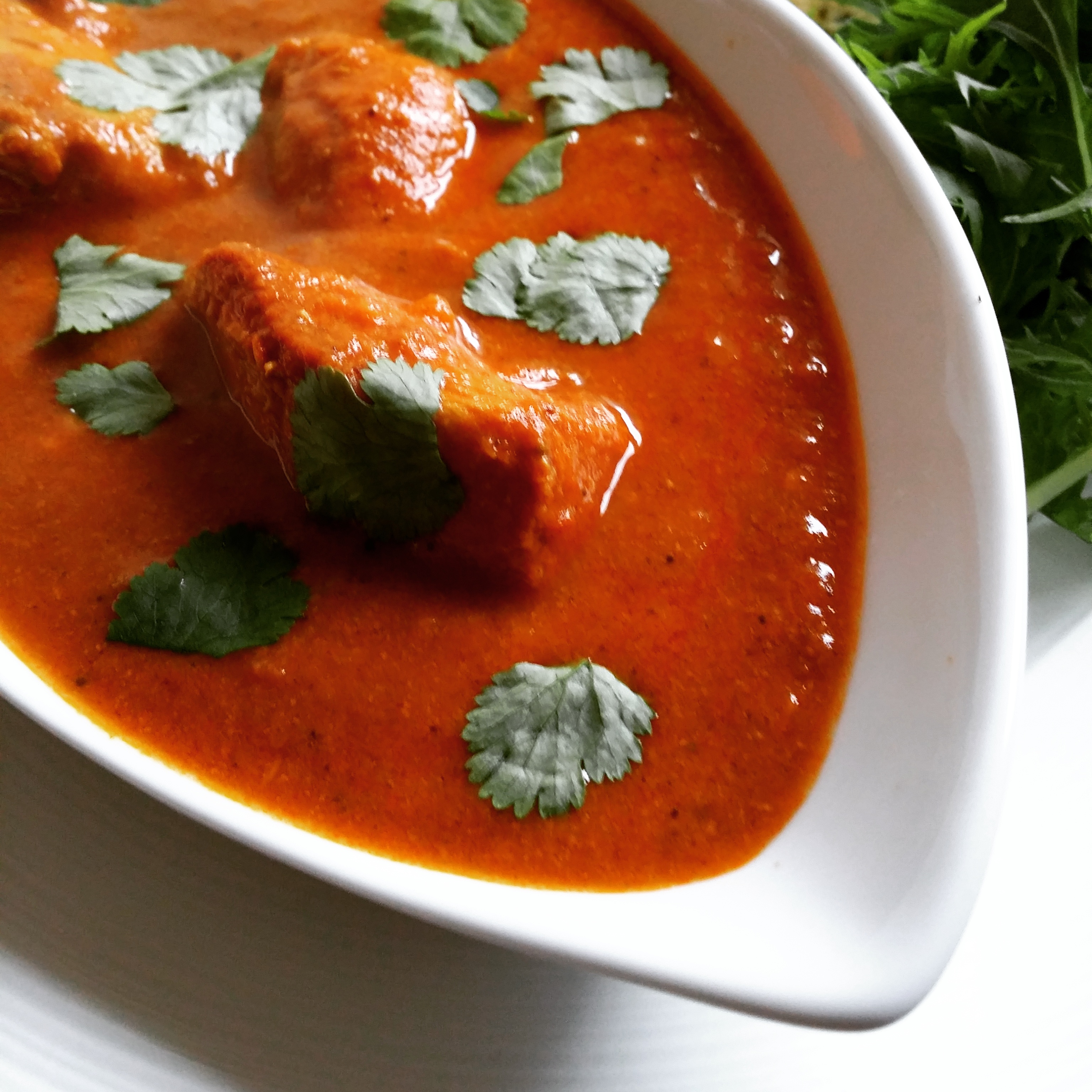 TEEKA TROPICAL SPICE MIX IS FREE FROM ADDED SALT, SUGAR OR ARTIFICIAL AGENTS.
WE ARE SOCIAL MEDIA: Twitter / Facebook / Pinterest / Instagram