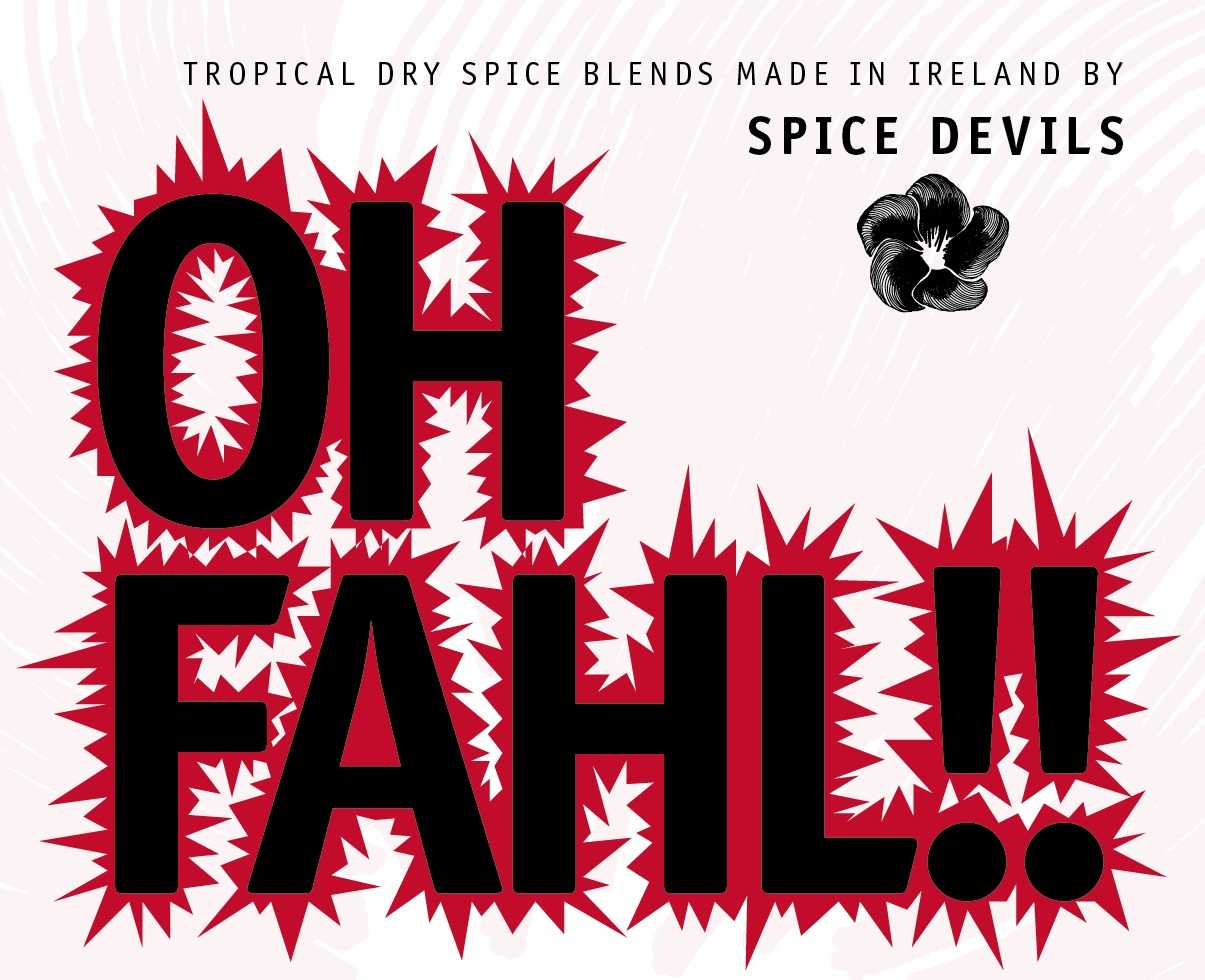 EXTREMELY HOT
IRISH CURRY NOT FOR THE FAINT HEARTED!!!
(15% CAROLINA REAPER)
OH FAHL IS THE IRISH VERSION OF PHAAL, THE WORLD'S HOTTEST CURRY. OH FAHL WAS DEVELOPED FROM ONE OF SPICE DEVILS' MULTI-AWARD WINNING FRUITY SPICE MIX. IT CAN SAFELY BE SAID THAT OH FAHL IS IRELAND'S HOTTEST CURRY.
Oh Fahl - 25g Pack - €3.95 (1 Pack serves 4 portions)
ON A CURRY HEAT SCALE OF 0 TO 10, THE OH FAHL IS A PERFECT 12.
WARNING!
THIS IS AN EXTREMELY HOT CURRY, CONTAINING 15% CAROLINA REAPER, THE WORLD'S HOTTEST CHILLI, MEASURING A WHOPPING 2,000,000 UNITS ON THE SCOVILLE HEAT SCALE (JALAPENO IS BETWEEN 2000 AND 20,000 UNITS) AND SHOULD BE CONSUMED BY SEASONED HOT FOOD EATERS OF SOUND MIND ONLY. IT IS NOT ADVISED FOR PEOPLE WITH ANY HEART CONDITIONS. THIS PRODUCT SHOULD BE HANDLED AND USED RESPONSIBLY AND ENTIRELY AT YOUR OWN RISK.
INGREDIENTS:
CORIANDER SEEDS, CHILLIES (CAROLINA REAPER), CUMIN, TURMERIC, FENNEL, FENUGREEK, CINNAMON, GREEN CARDAMOM, BLACK PEPPER, OTHER CHILLIES, GINGER, CLOVES, MANGO POWDER, ROSE PETALS, BAY LEAVES, BLACK CARDAMOM, MACE.
---
ATTENTION: You are required to read the terms and conditions of purchase of OH FAHL prior to making the purchase. Click on "Terms & Conditions" button below to read.
By clicking the "ADD TO CART" button, you agree to the conditions of the Disclaimer.
I HAVE READ THE TERMS OF PURCHASE OF OH FAHL AND AGREE AND ACCEPT ITS CONDITIONS.
Click the "Add to Cart" button below to agree and buy.
Oh Fahl - 25g Pack - €3.95
---